ABOUT THE PODKARPACKIE REGION
For adventure seekers
For those curious about the world
For those into beauty, tranquillity and nature. The Podkarpackie Region in the south-eastern corner of Poland is a land of diversity.
Wildlife
Podkarpackie is one of the greenest regions of Poland. Protected areas comprise nearly half of its territory. The region's southern part is particularly favoured by the brown bear. Nearly 90% of the Polish population of these mammals inhabit Podkarpackie. And where bears live there are pristine meadows and beautiful forests. These cover more than one third of the region's territory and include remnants of the ancient Carpathian primeval Forest.
Here you can also encounter the mighty wisents, as well as lynxes and wildcats, and a number of rare bird species such as the golden eagle. Hundreds of kilometres of tourist trails delineated in Podkarpackie, numerous scenic overlooks and interesting programmes of photo workshops and sightseeing tours are waiting for those wanting to explore the flora and fauna of the region or to relax close to nature.
photo Jagoda Leśniewska
photo Adrian Drąg
Star studded sky
On a clear and moonless night the Milky Way viewed from here looks like a glittering cloud. You can see 7,000 stars with no telescope; as a comparison in rural areas with hardly any street lamps you can see only 2,500 stars. When we look at the sky here, we can see it the same way as our ancestors perceived it centuries ago.
The high quality dark sky in the southern part of Podkarpackie, particularly in the Bieszczady mountains, and a lack of artificial light pollution made it possible to establish the Bieszczady Starry-Sky Park. As a result visitors can enjoy a number of attractions to experience the magic and understand the mystery of star-studded skies.
Hucul ponies and riding trails
The legend of "the Polish Wild West" has been linked with the Bieszczady, in the south of the Podkarpackie. Its inseparable feature is a rider in a cowboy hat. You can experience an unforgettable adventure, like those in Western movies, during a ride along the mountain grasslands on the back of a Hucul pony who, unlike other horse breeds, is not afraid of slopes and elevations.
In the region there are a few hundred kilometres of riding trails and numerous equestrian centres. Other related attractions include some colourful traditional events such as cattle drives and the annual Horse Fair in Lutowiska.
Hundreds of kilometers of cycling routes
Over 1,800 km of cycling routes with varied level of difficulty, leading across Podkarpackie, are like a magnet for those into active leisure.
Fanatics of cycling appreciate the routes delineated in the south of the region, in the Bieszczady, Low Beskid and Słonne Mountains, which will be truly challenging for them. On the other hand beginners and families with children will enjoy hundreds of kilometres of less demanding routes, including the over 400 kilometres long Green Velo Eastern Cycling Trail. These lead to the most impressive corners of the region, cities and towns, magnificent landmarks, across hills, valleys, meadows and unending forests.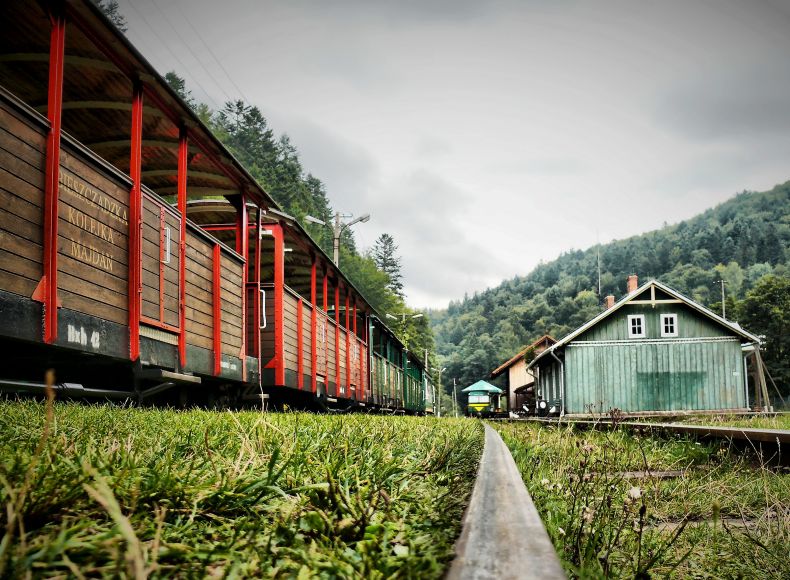 Rail - cycle draisines and forest trains
Rail-cycle draisines and narrow gauge trains offering rides in Podkarpackie are a real bargain for those interested in old railways and seeking unique attractions.
Extremely popular for years, the Bieszczady Forest Train takes travellers towards the beautiful mountainous landscapes in the south of the region. On the other hand Pogórzanin Narrow-Gauge Train in Przeworsk travels amidst the diverse foothill areas, along the way passing under a 600-metre long tunnel. A truly unique attraction, rail-cycle draisines are powered with the strength of muscles and travel along 140 years old railway tracks, quite forgotten until recently.
Treasures wooden architecture
raditional wooden architecture is the region's trademark feature. The Wooden Architecture Route in Podkarpackie leads to over 130 unique places, most notably a number of UNESCO World Heritage Sites, and the Museum of Rural Architecture in Sanok.
The latter is in fact the largest open air exposition in our country and it conveys the atmosphere of villages and small towns existing in south-eastern Poland years ago. The landmarks listed by UNESCO include the Roman Catholic churches in Blizne and Haczów, as well as the Greek-Catholic or Orthodox churches in Chotyniec, Radruż, Smolnik and Turzańsk; all of them stand out for the craftsmanship and their long history. Setting off for the Wooden Architecture Route we start a magical journey in time.
Palaces, castles and mansions
Want to feel like a princess? It is quite easy when you are strolling along the corridors in the Łańcut Castle, with the magnificent interiors and furnishings. Interested in architecture? At the castles in Baranów Sandomierski and Krasiczyn you will see what jewels of Renaissance look like. Fantastic court-style cuisine? At the Dubiecko Castle. Delicious Carpathian wines? At the Kombornia Manor House. Masterpieces of art? At the castle in Tarnobrzeg.
The castles, palaces and mansions in Podkarpackie are as varied and lovely as the entire region. The best way to see them is when you follow the Carpathian Trail of Historical Houses and Gardens.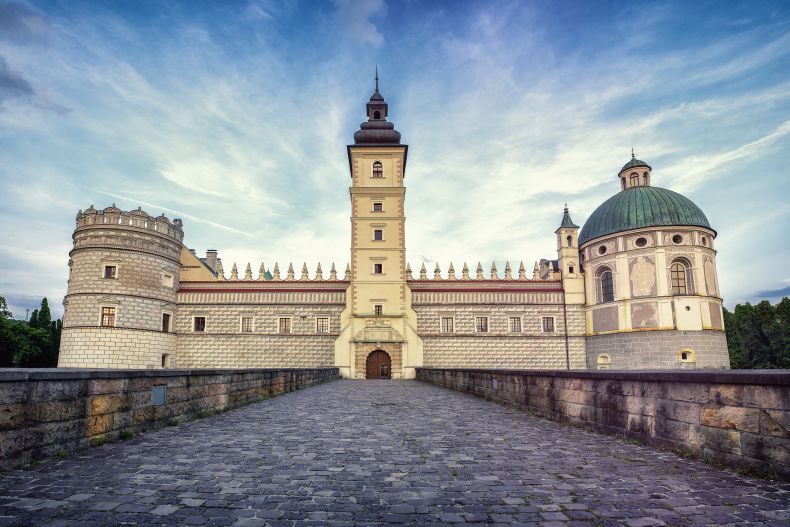 Unique wine
Polish Dionysus. This is what they call Roman Myśliwiec – a man who was the first in Poland to pick wine making as a career and established Golesz Vineyard near Jasło, in Podkarpackie.
This is where contemporary Polish wine making set roots for the first time. So it is not surprising that Podkarpackie today is the most rapidly growing wine region in our country. The unique wines produced in Podkarpackie can be tasted in each of its 160 wineries. Each of them has a different history, and each produces a slightly different wine, one of the kind. Interestingly, the only Polish altar wine is also produced in Podkarpackie, more specifically in Przeworsk.
Souvenirs from Podkarpackie
Glass items from Krosno are a perfect souvenir from our region, just like the hand-painted ornaments from Nowa Dęba which every year embellish millions of Christmas trees throughout the world.
You can also buy lovely gifts and souvenirs during a visit to Rudnik nad Sanem. This is the largest centre of basket weaving industry in Poland. From Przemyśl you must bring one of the famous hand-made pipes. Finally, a gift basket from the Podkarpackie should contain regional delicacies such as honey, processed meats and wine.
How do you reach Podkarpackie?
Rzeszów, the capital of Podkarpackie is the main transport hub for the region. New A4 Motorway leads from the west towards Podkarpackie, directly to Rzeszów, or even further, to the border with Ukraine.

In Jasionka near Rzeszów there is international airport with a state-of-the-art terminal waiting for travellers. The airport timetable includes a few flights to/from Warsaw every day, a daily connection with Munich and several flights weekly to/from other cities in Europe.

You can also get here from Gdynia/Gdańsk at the seaside, or from Warsaw, by Pendolino trains running on a daily basis. There are also daily trains from Kiev and Lviv to Przemyśl.

Specific locations in Podkarpackie can most easily be reached from Rzeszów and other large cities of the region, such as Przemyśl, Krosno, Tarnobrzeg, and Sanok.