Hundreds of poems and thousands of songs talk about the magic of these mountains. Yet, even if they are written with a golden pen, the verses are just a poor substitute for the real experience. Bieszczady can be explored in many ways. Below you will find some ideas.
TOURING BIESZCZADY BY CAR
If you like touring and driving, or you do not have a lot of time but want to see as much as possible, the following suggestion is for you.
The key phrase here is the Large Ring-Road of Bieszczady. The route leads from Lesko, via Lutowiska, Ustrzyki Górne, Baligród and then back to Lesko. It will take you around Lake Solina, through the most beautiful areas of Bieszczady. The Ring-Road is about 150 kilometres long and a non-stop drive would take more or less three hours. Yet, you would have to be crazy to travel along such a beautiful scenic route without taking any breaks.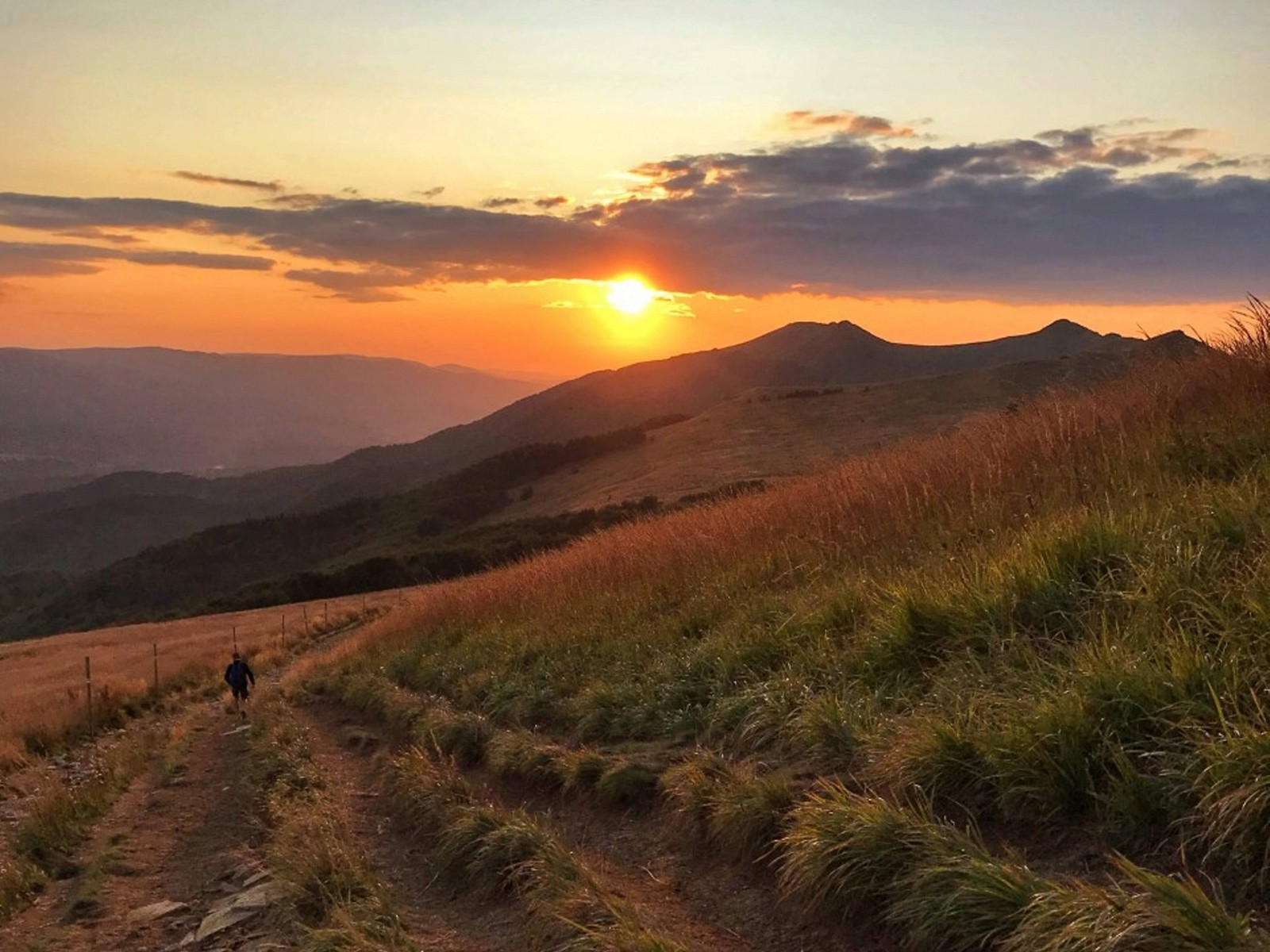 photo Jakub Wilk
in Uherce Mineralne, you will drive by the station of Rail-Cycle Draisines, and then in Olszanica you will see Pałac Biesa
Along the way you will drive past dozens of interesting places deserving of your attention, and looking great in the eye of your camera. Here we will mention only some of the attractions. A few kilometres away from Lesko, in Uherce Mineralne, you will drive by the station of Rail-Cycle Draisines, and then in Olszanica you will see Pałac Biesa, one of the most picturesque old mansions in Podkarpackie.
As you drive through villages, further and further away from Ustrzyki Dolne, the green hills grow higher and higher. This is a sign that you are approaching the heart of Bieszczady. Up the road, shortly before the village of Lutowiska all travellers touring the area by car simply must take a break. To the right there is a scenic overlook, with a convenient car park; from here you can admire an awesome view of High Bieszczady and the village.
In the village of Smolnik nad Sanem. Here you can see one of the six landmarks of Podkarpackie, listed by UNESCO.
Another obligatory stop is located slightly south of Lutowiska, in the village of Smolnik nad Sanem. Here you can see one of the six landmarks of Podkarpackie, listed by UNESCO as World Heritage Sites. This is the best preserved Bojko-style tserkov, one of only three surviving churches of this type.
After a short break, take to the road again. You will drive past the village of Ustrzyki Górne, where a number of hiking trails cross. Here you can meet tourists coming back from or setting off towards mountain tops. Even more tourists wearing hiking boots can be seen 15 kilometres further, in the area of the Wyżna Pass. Even if you do not go hiking, it is a good idea to stop here, as it is another excellent scenic overlook.
Driving towards the north-west you reach Wetlina, where (during high season) you should stop at Chata Wędrowca restaurant and try Giant Pancake served with forest blueberries.
Then the Large Ring-Road leads via Smerek, Strzebowiska, and Baligród back to the starting point in Lesko. This is an interesting option, but – to make things even more exciting – we suggest an alternative route: you can leave the Large Ring-Road - as you approach Dołżyca you turn right towards Terka, and then 20 kilometres further in Bukowiec you enter the Small Ring-Road of Bieszczady, which at this point leads along Lake Solina. This way you will be able to admire Poland's largest artificial lake which formed after the country's largest dam was built.
We have two suggestions how you could end the tour. You can stop in Solina, and take a walk along the top of the dam. Alternatively, you can drive straight to Lesko where you can visit one of the largest Jewish cemeteries in southern Poland.
ABC OF BIESZCZADY
If this is your first visit to Bieszczady, you would probably like to see... everything. The above tour along the Large Ring-Road is a good recipe for Bieszczady in a nutshell. Yet, honestly speaking, there is no substitute for a walk through a beech forest and across green mountain meadows. So, what route should you choose during your first visit to Bieszczady?
photo Katarzyna Preus
In the mountains many people feel appetite for reaching a summit. You can start gently, from a trip up to Mount Połonina Wetlińska. The yellow trail from the Wyżna Pass is rather short and extremely popular. It may also be crowded. On the other hand the trail has some specific advantages. Even at the starting point you will get a beautiful view of Bieszczady, and you can reach the top within one hour.
Yet, if you feel like setting ambitious goals, during your first visit to Bieszczady you can reach the tallest Polish summit of this mountain range, that is Tarnica (1346 metres above sea level). The "express" trail starts in Wołosate. It will take you slightly more than two hours to get to the top, and then about an hour and a half to come down.
If you do not want to climb up and down following the same route, you can set off to the top of Tarnica from Ustrzyki Górne, via the massif of Szeroki Wierch, and then return following the trail to Wołosate. The route is only slightly longer, taking up to five hours in total. You do not need to worry about your return from Wołosate to Ustrzyki Górne. Various transport services are available, so you can take a bus or ecological Melex car to go back to the starting point.
Hucul ponies are an additional attraction during a visit to Wołosate. Hucul Pony Preservation Breeding Farm, located in the village, offers horse riding courses and tours along marked trails, as well as trips in horse drawn carriages.
After you have seen the mountain meadows, you absolutely must spend the night in their vicinity. This is the time when in High Bieszczady you can watch the uniquely star-studded sky and admire the Milky Way, which looks like a glittering cloud.
FOR THOSE INTO ACTIVE LEISURE
If you think that in Bieszczady you will only find some unchallenging green hills, you are in for a big surprise. Indeed a number of long and highly demanding trails lead through the forests and mountain meadows. To start with, we have two suggestions.
The first one is a classic option. We recommend a hiking trip along the entire ridge of Mount Połonina Wetlińska. The most popular grass-covered mountain ridge can really give you a surprise. In fact, one of the shortest hiking trails (mentioned in the previous subchapter) leads to this very summit. Yet, a walk along its entire ridge will require eight hours, because Mount Połonina Wetlińska is really a large massif with a number of summits. You will need a bit less than three hours to climb to the top of the first one, Smerek (to which you set off from the village bearing the same name). And then the most interesting part of the trip starts; you go down a bit, and then up again, to more summits, and near Roh (1255 metres), the tallest summit which you pass by on the southern side. It takes more or less two hours to walk across the mountain meadow. If you decide to take the hiking trip along the ridge of Mount Połonina Wetlińska, this will definitely be one of the most beautiful strolls in your life.
photo Adam Forys
photo Adrian Weimer
Our second suggestion for those into active leisure is a "2 in 1" option, or a hiking trip to the massif of Bukowe Berdo and Mount Tarnica. The part of the trail leading to Mount Bukowe Berdo is less popular among hikers, unlike Mount Tarnica which is part of a standard hiking itinerary. You start off in Pszczeliny by following the blue trail to the ridge of Bukowe Berdo, which will take over two hours. Beyond the tree line you can take a deep breath of air, and set off for a hike along the ridge of Bukowe Berdo. This route will take you to Mount Krzemień and then further to Tarniczka, a point located several minutes away from the very top of Mount Tarnica. To descent Mount Tarnica follow the trail along the massif of Szeroki Wierch which will take you straight to Ustrzyki Górne; there you can get food, and accommodation or take a bus (during high season) to selected places in Bieszczady. Importantly, it will not take more than eight hours to walk the trail, but this option is more demanding than the hike along the ridge of Mount Połonina Wetlińska.
Come and check out our recipes for a good time in Bieszczady!
*The text was written thanks to the support and advice from Karolina Kiwior, mountain guide of PTTK Association, tour leader, and member of Bieszczady Group of GOPR Rescue Service.